Welcome! If you're new here, you may want to learn what Saving Naturally is all about.

Join 3,000 others and stay up-to-date on the latest posts and deals by subscribing for free by RSS feed or email!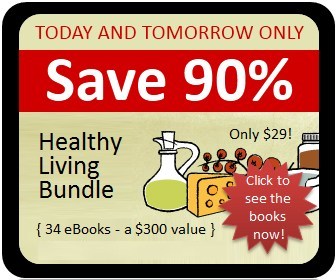 It's back! For 48 hours only, 27 prominent Healthy Living authors have joined together to bundle 34 of their most popular eBooks, valued at just over $300, for the incredibly low price of $29. Plus receive more than $73 of bonuses from healthy living companies. This deal is available at Nourishing Days now!
Get All 34 eBooks Below for Only $29 ($0.85 Each!)
What People Are Saying
Love all of the books and the extra freebies.

Redmonds Real Salt bundle they sent was awesome! Thanks for the great deal.
- Stacey
So far I have used the grain free/paleo books and the recipes have been very easy.
I like that some of of them are broken down by season. I'm excited to use the sourdough book.

I'd like to see more about fermenting/soaking/sprouting.
- Kelsey
I love the bundle!

It will take a long time for me to get through all of the books, but I am finding the info very helpful. I have already put much of what I have read into practice!!

So glad I bought it!


- Jenny
I absolutely love the bundle! I have read six of the books so far and am impressed with the information it contains! Hands down, the best deal this year.
- Amanda
$70 in FREE Bonuses
PLUS, With Each Purchase You Will Receive An Additional $70 of FREE Bonuses from these awesome Healthy Living companies
Up to $29.99 of incredible natural products from "Earthpaste" "Real Salt" and "Redmond Clay" products for FREE. ($21.50 – $29.99 Value)
Your choice of a FREE sourdough starter, or a FREE traditional buttermilk starter from Cultures for Health ($12.99 value).
4 lip balms (2 natural and 2 peppermint), made with just three pure and simple ingredients, from Hard Lotion . ($10.50 value)
$10 store credit to use raw fermented vegetables and juices, organic sprouted grain bread, organic gluten free bread, real traditional bone broth or anything else in the Wise Choice Market store. ($10.00 value)
$10 store credit towards a beautiful selection of natural, wooden, and organic toys. Hazelnut Kids only carries toys that are safe, simple, and sustainable, and gifts that encourage imagination! ($10.00 value)
*Standard shipping applies to FREE products. Each bonus offer is intended for 1 order only. Transaction numbers or proof of purchase may be required at the time of redemption. All offers expire at midnight on December 5th, 2012.
The Math (Yes, It Is THIS Good)
To recap, you spend $29 and in exchange you get $370 worth of eBooks and free bonus offers! Offers this good can't last long and this one won't. Sale ends 11/28/12 at 8:00 a.m. EST. Don't miss out!