Welcome! If you're new here, you may want to learn what Saving Naturally is all about.

Join 3,000 others and stay up-to-date on the latest posts and deals by subscribing for free by RSS feed or email!
I grew up on the SAD diet so naturally drinking soda didn't seem all that bad. Everyone I knew drank it and some in very large quantities. It was like their version of water.
So in high school I would grab a can from the vending machine at least once a day and then maybe have some at home as well. Then I went away to college and could do whatever I wanted and drink whatever I wanted. With a dorm cafeteria offering a smorgasbord of soda choices I had a big glass of cherry coke everyday twice a day.
By the beginning of my sophomore year in college something wasn't quite right. I began to have a stomach ache all. of. the. time. It was especially intense after eating meals. I knew I wasn't digesting my food properly and I loathed eating because I knew that shortly afterward you might find me curled up in a ball on the sofa trying to manage the pain.
Looking back there were a lot of factors that contributed to this year and a half of pain. I was under a tremendous amount of stress from school, a really bad roommate, and an even worse boyfriend.
But one day after reading an article about the perils of soda I decided not to have any that day. I kind of craved it by the end of the day, but decided that the slight ease in pain was worth foregoing the bubbly stuff again tomorrow. And you know what… I felt so much better the next day that I simply have not had more than a couple of sodas over the past nine years.
It could have been that my body was reacting to the high fructose corn syrup, sodium benzoate, or other unnatural substances usually found in soda. It could have been that my body simply cuold not process all of that refined garbage. While it didn't completely heal my stomach problems, it was a huge leap forward and showed me that with some simple lifestyle changes I could be set free from this prison of pain.
It also saved me a surprising amount of money since I replaced soda with… water.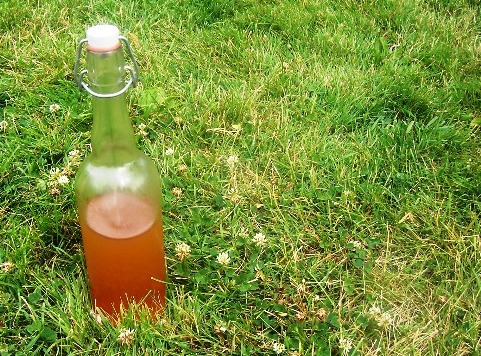 Natural, Health-Giving Sodas
Looking back, though, I remember those early days being tough. I was almost addicted to the bubbly fun nature of this stuff. I wish I had had some healthier alternatives to wean me off.
I now drink some bubbly drinks that add to my health instead of detracting from it. These two beverages are lacto-fermented meaning that contain natural probiotics, vitamins, and digestive aids. The two I am speaking of are…
Kombucha. This is an age old digestive and detoxifying tonic. If you make it at home like this with a starter you might spend $1 per gallon on making a bubbly tart beverage.
Water Kefir. I find this beverage to be even more like soda in that it isn't quite as tangy as kombucha. When mixed with just a touch of real grape juice on the second ferment it tastes so much like grape soda just without the cloying sweetness. All you need is a water kefir starter` that will last you a lifetime if you care for it properly.
So if you're looking to get off the soda train for health or monetary reasons give these a try as you wean yourself off… and enjoy a better feeling of wellness.