Welcome! If you're new here, you may want to learn what Saving Naturally is all about.

Join 3,000 others and stay up-to-date on the latest posts and deals by subscribing for free by RSS feed or email!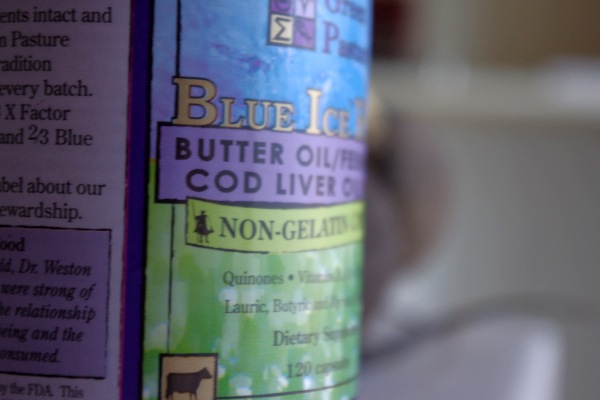 What a disappointment it was when I learned that much of the supplements I had been taking were not being readily used by my body. Yep, that means we were literally swallowing vitamins and then throwing money down the (toilet) drain.
The trouble with supplements is that any bottle can claim anything so we have to be smart consumers. That doesn't mean the industry should be more regulated, but rather that we ought to take responsibility and educate ourselves on what is best for our health.
So I began researching this topic a few years ago. I am not a doctor or a nutritionist, so don't take what works for us as medical advice. But I thought I'd share which supplements we have found helpful and therefore are willing to spend the money on.
Fermented Cod Liver Oil.
I know this sounds like something your grandmother had to take when she was a child, but believe me this stuff has been taken for centuries for a reason. Good cod liver oil contains lots of the fat soluble vitamins A & D that are really important for development of all parts of the body; for boosting your immune system and preventing all sorts of nasty things, including the common cold; and for energy and vitality.
We use Green Pastures Fermented Cod Liver Oil (found here), which is the best quality on the market and also fairly expensive. Obviously we have seen enough results to know it is worth the money. Another less ideal and less expensive option is Carlson's cod liver oil.
Probiotics.
Health begins in the gut, which means if your gut isn't healthy, you're not healthy. That's why we supplement with a good quality probiotic from time to time. We don't take this every day, since we try to eat fermented foods, but there are specific times when it is especially important – when we have had to take a course of antibiotics, if someone is showing signs of candida, or if we are feeling a cold coming on, for instance.
The two highest quality brands that I am aware of are Bio-Kult and Garden of Life.
Vitamin D3.
After our youngest son was born I got my vitamin D levels tested and found out that they were way too low. Not surprising, after having two children in two years and not supplementing or eating a very nutrient-dense diet. So my naturopath recommended I take not only the cod liver oil above, but another vitamin D3 supplement in order to get my levels into the normal range for a breastfeeding mother.
The brand we have used most often is the NOW vitamin D3.
Food-based Multivitamin.
For any every day overall boost you might want a multivitamin that is food-based which will absorb much better than a synthetic supplement.
For almost all vitamins we like the Standard Process brand because it is such high quality. Catalyn is a great multivitamin choice that we take.
So those are the supplements that I have found to actually be worth the money. Of course these are no substitute for a nutrient-dense diet, but they do help fill in the gaps when needed.
How do you choose supplements to get the most bang for your buck?